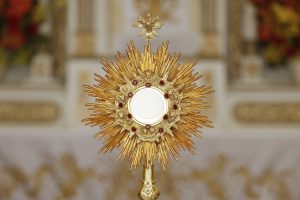 First Friday Devotion with Exposition of the Blessed Sacrament

will be held at St. Mary/St. Charles the first Friday of every month. 
Devotion will begin at St. Mary/St.Charles after 9:00 am Mass. 
(Friday, Mass is said at Bishop Baraga School during the school year.)
Evening Prayer/Benediciation/Reposition begins at 7:00 pm. 
Contact Barb at 231-627-7748 for more information.