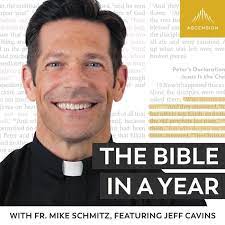 Man O' Man it's Finally here!
The Bible in a Year group with Father Mike Schmitz will be meeting in person!
Please come to St. Mary/St. Charles Church basement on Monday, July 19th at 7:00 p.m. so we can finally meet I person and have a few laughs and lots of     fellowship.
Even if you have not started reading the bible yet please come and join us. We would love to have you! It's never too late to start reading the bible. This invitation is also open to high school junior and senior students and young adults of college age and older. We want you to be a part of our plan—God's plan.
It's so Easy! You can sign up for the reading plan today and get started listening to the Podcast by going to ascensionpress/bibleinayear. You can also listen on You Tube. Just look for Bible in a Year.
If you have any questions you can contact either Kim Socolovitch at        231-627-2105 or email kims@cprparishes.org, Bill Schryer at billschryer@gmail.com or Dr. Mark Drogowski at mark.ad4@gmail.com.
Please know that we are praying for you, please pray for us!